Greenhouse info, click here.

Aviary under construction, click here.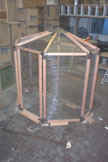 Outdoor Aviaries, click here.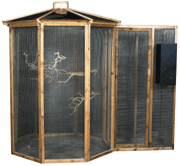 Click for larger picture.
We use Stainless Steel Wire Mesh or PVC Coated wire. We can offer brand name LEXAN Corrugated Sheet. LEXAN Corrugated Sheet is 20 times stronger than Fiberglass and PVC. LEXAN Corrugated Sheet comes in 4 colors: Clear, Gray, White, and Green. All colors will block out 98% of UV Light. And it is made in the USA! LEXAN 6 feet wide corrugated panels are available.
Other types of polycarbonate panels are available.
Polycarbonate sheets provide excellent design and strength.
Polycarbonate corrugated panels, click here.