To place an order, call: 1-877-388-3792 For a brochure, click here.
Do you need PVC coated or stainless steel wire mesh? Click here.
Click here to join email list.
| | |
| --- | --- |
| The Marin has white powder-coat bars for the roof. The sides are clear acrylic with an oak frame. The floor is white HDPE (cutting-board material). High Density Polyethylene (HDPE): HDPE refers to a plastic used to make bottles for milk, juice, water and laundry products. Unpigmented HDPE bottles are translucent and have good barrier properties and stiffness. | |
Top View: The Marin has two sections.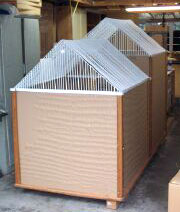 Click here for powder coated ornamental iron stands.
Click here to join email list.